I posted daily on LinkedIn for 44 days. Here's what happened.
Feb 28, 2023
Of all the social media platforms out there, LinkedIn has proven to be one of the most valuable for building thought leadership and expanding your reach. In no fields is this more true (perhaps) than in the sciences!
But how do you get the most out of it? That's the question I set out to answer with my 44-day LinkedIn posting challenge.
I've been sharing LinkedIn best practices for years, but I wanted to actually SHOW (rather than tell) what can happen. Plus, I have never needed a large audience before as a consultant, and so I hadn't put much effort into gaining new followers (it was mostly about keeping my posting going in case the couple of clients who come across me could vet my expertise).
My 44-day LinkedIn challenge
The challenge was simple: post every day on LinkedIn for 44 days straight (which I was successful at with the exceptions of my birthday and the first day of a workshop I hosted). I started on January 10th.
Why 44? It was long enough to see any impact, short enough to be do-able, and, well, 44 is my favourite number!
My goal was not to generate leads or new business, but rather to expand my reach and solidify my thought leadership.
(I also have ZERO qualms about sharing my data publicly…sometimes "gurus" will share their stats but the numbers are so massive that it seems unattainable to the rest of us!)
What did I post about?
Most days, it was to share marketing tips, while other days I weighed in on unrelated hot topics (The Last of Us and fungal science). Occasionally I shared personal stories or motivational content for entrepreneurs.
What were the results?
I tracked it all using LinkedIn's native analytics for profiles (which you can do, too - I don't have a paid account) and overall I'm happy with the results.
Here are some of the top takeaways and key results that I discovered:
✅ I saw increased impressions, follows, and engagement across the board - much more than I used to get with weekly posting (makes logical sense…you post more, get seen more)
✅ People use LinkedIn on weekends
✅ It didn't add time to my workday, for which I was thankful!
✅ Coming up with topics wasn't hard, but keeping it creative was sometimes
✅ More people than ever before re-shared and commented on posts
✅ I now have a good base of content that serves as a way to vet me for speaking/education, etc.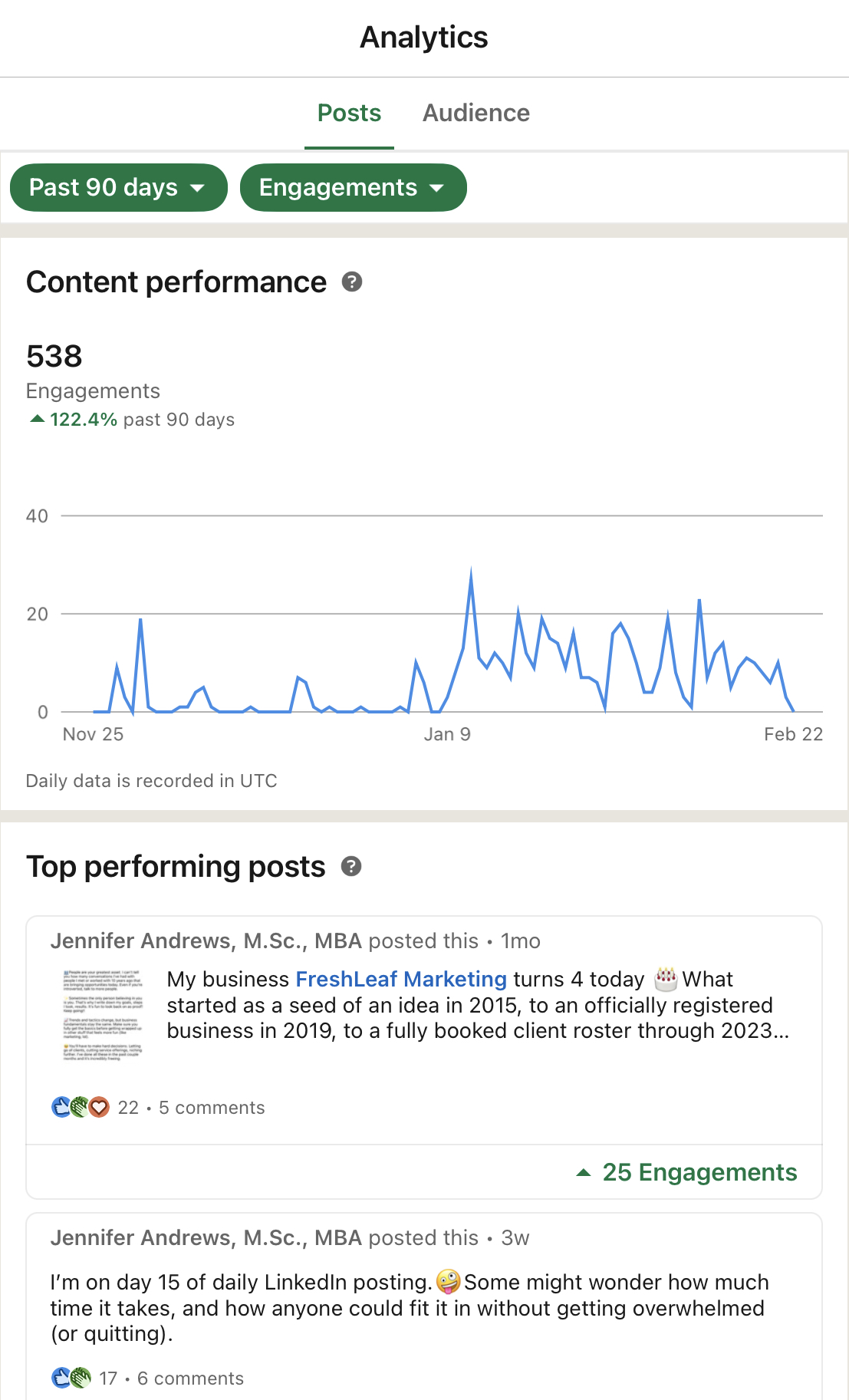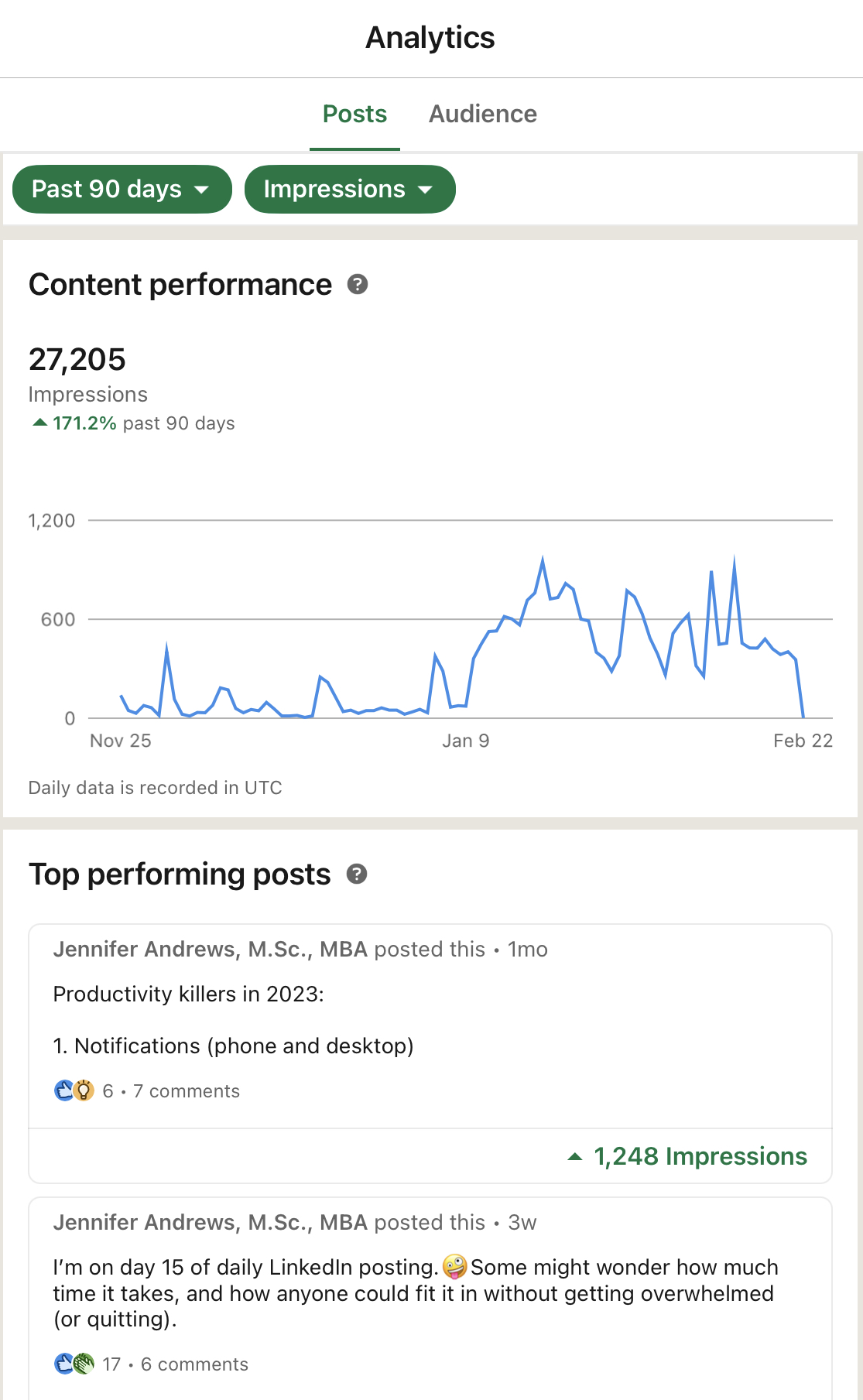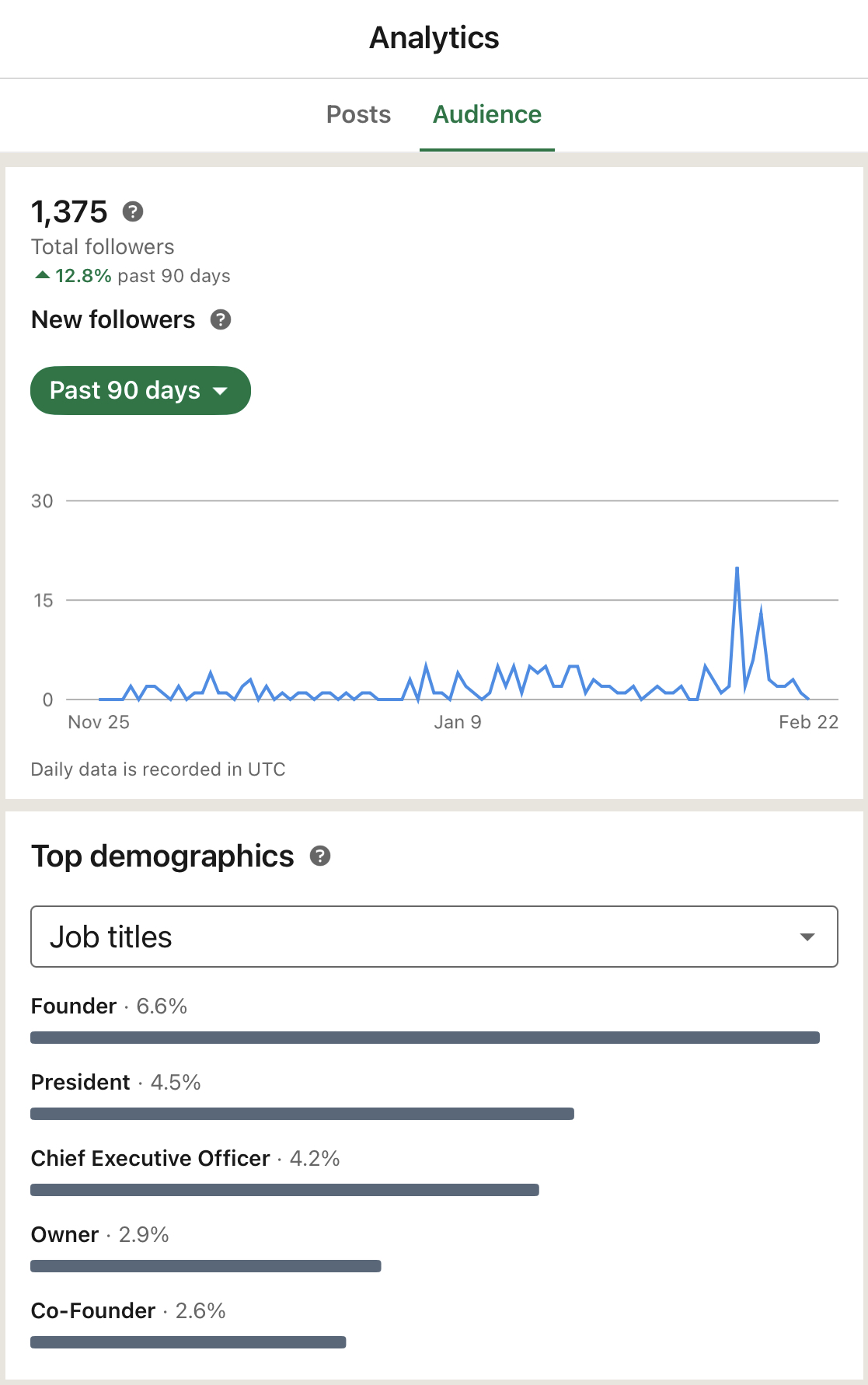 Did anything go awry?
Of course, there were some things that didn't work as well:
❌ I wanted to get a video in but never did
❌ I check and scroll LinkedIn more than before (surprise, surprise)
❌ Not all my posts have a call-to-action (I don't necessarily want to gain something from every post), but maybe this is a missed opportunity
❌ The posts I thought were least valuable were the most popular 🤷🏼‍♀️
❌ I sometimes used this challenge as a way to avoid classic BD outreach like 1:1 direct connections 😂
Takeaways: Should you try it, too?
All in all, I found the posting challenge to be a good experiment that any business owner could try. You can imagine from the data that doing quarterly bursts would gradually build up a larger following.
So, if you're feeling stuck in your LinkedIn posting and want an extra push of visibility, why not give a posting challenge a try? You may be surprised by the results.
And who knows, you may even discover some valuable insights along the way. If you have any questions about my experience, feel free to reach out!
Subscribe to the Newsletter