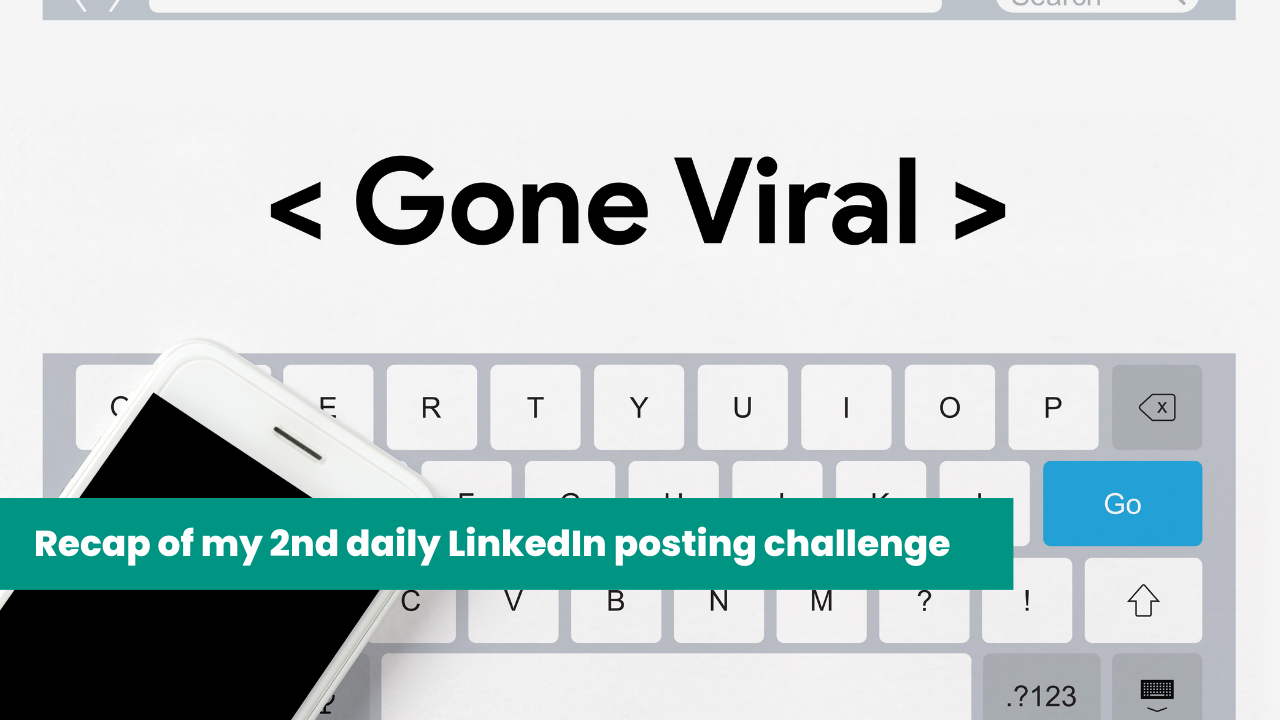 I repeated my daily LinkedIn posting challenge (and ended up going viral!) Here's what happened.
Jun 29, 2023
Note: this post contains affiliate links. This comes at no cost to you, but I may earn a small commission.
School's out for the summer AND my 44-day LinkedIn posting challenge is complete 😎 If you've been following along, this was the second time I posted daily as an experiment to boost visibility and thought leadership.
You can read the original post here. And here's a link to my LinkedIn profile for reference.
The stats reporting this time is a bit weird because, well, one of my posts went viral.
I won't make you wait for the juicy details on that. It was the post announcing that my book, Scientist to CEO, has been published. It received 25K impressions, >375 likes, >100 comments, and dozens of re-shares. It brought more followers than anything I've ever done on LinkedIn, and the post is still growing 2 weeks later!
It also drove book sales and put me in touch with key business prospects for my consulting work and events/speaking.
If you're not sure what going "viral" means, here's some context:
Viral = when views > network size (in my case, it was more than 10X network size!)

My best performing post before that was maybe 3K impressions, 50 likes (still good)
Did I stick to the challenge?
Unlike last time when I only missed a single day, this time I skipped several days and stopped posting on the weekend. Frankly, the whole book thing eclisped everything else for a couple weeks, so I hit the brakes a couple times.
Still, I stayed consistent and that counts for a lot on LinkedIn.
What did I post about?
No surprises here, I focused my posts on my book launch. I did promotion leading up to it, tagged those I interviewed for the book, and contacted my connections and groups, and talked about the main subject matter and value to readers.
I kept my other content going, including:
"Unpopular opinion" style posts which performed well

Text-only posts as well as graphics

Article shares (which I don't typically do, but these ones did decently well)

A video (talking head style) about my book

Some motivational content for technical professionals, women in STEM, etc.

B2B marketing tips
What were the results?
Same as last time, I tracked everything using LinkedIn's native analytics. Check out the graphs to see the impact of my viral book post.
In addition to the metrics, a few BIG results came through which are more important than marketing stats any day of the week:
✅ I received an inquiry about my services, booked a discovery call, and issued a proposal within 7 days
✅ LinkedIn drove book sales more than any other channel
✅ I booked an opportunity to have my book featured in a science book club (!!)
✅ I now have a deal where I'll author monthly articles for an organization and host an event in the fall
✅ I gained more followers than ever, all highly relevant in my industry, all from the book (>250 new followers)
Note: the viral post skewed all my metrics, making the regular stats look low. This isn't the case, it's a Y-axis scale issue!
The red arrow is the book launch post. Remember, the graph shows the highest peak around the 4K mark, but the post gained ~25,000 impressions total.
Did anything go awry?
As always, I like to be transparent with you! Things that didn't work as well:
❌ I'm exhausted 😩 Content creation is no easy feat, even when you do this for a living
❌ I stopped promoting our course, Life Science Growth Intensive, because of the focus on my book
❌ It became harder to come up with topics than last time
❌ I worried about audience fatigue (but then again, who cares if LinkedIn is driving revenue for your business? Which it is for me, so I kept going)
Takeaways: Should you try it, too?
As expected, my LinkedIn presence did in fact build on top of my first daily challenge in Q1.
I still think doing quarterly bursts would gradually build up a larger following. So I'm going to be doing that come fall.
If you're curious about leveraging LinkedIn to grow your visibility, thought leadership, and revenue, I dedicated an entire section to it in my book, Scientist to CEO, including how to leverage LinkedIn to cultivate a strong personal brand.
Get Your Copy Today!
Subscribe to the Newsletter